Benvenuto!

Established in 1957, the Arizona American Italian Club has always been involved with our community - whether it be through charity involvement, special events or wedding hosting, we work hard to be an integral part of the lives of our membership as well as the people of the city we call home.

Let's Play Bingo!

Fridays @ 6:30 PM / Sunday @ 1:00 PM. We play Power & Paper only. New Program now in effect. Now 21 games. Play all 21 for just $18, with the last three games paying $249 each. $2,997 in Guaranteed Prizes each session, $1,000 Progressive Bonus Game - Coverall $450 Large Picture Frame.

Bocce at AAIC

We have four (4) lighted professional courts. You do not need to be a member of the club, nor do you need to be Italian. This is our way of exposing the community to Bocce and promoting our club facilities to the public. Open bocce starts at 7:00 PM every Wednesday. Only one rule - everyone gets to play!

Italian Car Show

The Arizona American Italian Club proudly presents "Le Bellezze d' Italia" (The Beauties of Italy) Charity Car Show on October 11th, 2014. Join us for the fun as well as the great food and drinks. Best of all, proceeds benefit a fantastic charity - Military Assistance Mission of Arizona!
Visit The Club's Sponsors
Join us for breakfast on Sundays from 10:30 a.m. - 2:00 p.m. When you order breakfast off the menu get your first drink for $1.50!

All day Mimosas and Blood Marys are $2.00! Can't beat that…

More Info
Throughout the week we offer several dining options for our Members and the general public. Wednesday is Family Spaghetti Night, we offer a Thursday Night Buffet and our Friday Dinners can't be beat! Be sure to check our Events Calendar for any upcoming special dining activities.


Dining Menus
On behalf of the Board, the Trustees, Our Club Staff and the General Membership - We welcome you to the Arizona American Italian Club's website!

Browse through the different sections of the site to find out about some of the exciting events we have scheduled and to get an idea of what the Club is all about.

To stay up to date on everything Club related we have created various mailing lists for you to subscribe to in order to receive customized email updates based on your specific interests.
Thank you for visiting our site, we look forward to seeing you at the Club!
Sincerely,


Jim Parisella, Club President
We are pleased to announce The Arizona American Italian Club 2014 Officers

Jim Parisella - President
Jay Fuller - Vice President
Joseph Locurto - Treasurer
John D'Avanzo - Recording Secretary
Lois Schick - Financial Secretary
Frank Cucitro - Sergeant-at-Arms

TRUSTEES
Andy Trotti, Rosalie Mora, Lynn Coughlan, John D'Avanzo,
Dan Kotora, Joe Di Tommaso, Gene Gazzola
Monthly Dining Menus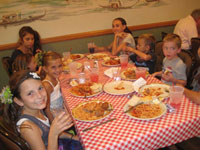 Each Wednesday throughout the month is Family Spaghetti Night!
$10.00 Adults | $5.00 Children (Prices include tax)
Please note that due to increased costs prices have changed starting February 1st, 2015



Join us on Thursday for our buffet offerings ($13.00) (Prices include tax)
Please note that due to increased costs prices have changed starting February 1st, 2015

July 2nd - Stuffed Pork Chops, Meatloaf, Mashed Potatoes & Gravy, Mixed Veggies, Soup & Salad
July 9th - Beef Brisket, Spare Ribs, Chicken, Beans, Corn & Summer Salads
July 16th - Sweet & Hot Italian Sausage, Hamburgers, Hot Dogs, Chicken Kabobs, Baked Beans & Summer Salads
July 23rd - Antipasto Night Artisan Meats & Cheeses, Grilled Veggies, Stuffed Mushrooms, Italian Pasta Salads, Foccacia Breadsticks & more
July 30th - Flat Bread Pizzas, Chicken Wings (oven Roasted & Fried), Mini Meatball Subs, Potato Wedges



Friday Dinner Menus ($13.00) (Prices include tax) | Fish fry is available every Friday
Please note that due to increased costs prices have changed starting February 1st, 2015
July 3rd - Honey Glazed Ham, Baked Chicken, Parsley Potatoes, Sweet Potatoes, Veggies, Soup & Salad
July 10th - Stuffed Cabbage, Kielbasa, Brats, Perogis, Sauerkraut, German Potato Salad, Veggies, Tomato Basil Soup & Salad
July 17th - Honey Glazed Cornish Hens, Cornbread Stuffing, Pepper Steak, Mashed Potatoes, Italian Green Beans, Beets, Soup & Salad
July 24th - Beef Stroganoff, Chicken Parmesan, Stuffed Flounder, Veggies, Soup & Salad
July 31st - Baked Cod, Chicken Cacciatore, Beef Roladen, Mashed Potatoes, Veggies, Soup & Salad


Bocce News
Refurbishing of the Bocce courts continues. Court 3 has been resurfaced. Courts 1 and 2 will be completed in the near future. A big "Thank You" to all who are helping with this project!

There will be no Bocce League meetings in July and August. The next meeting will be Tuesday, September 2 at 7:00 p.m. Fall League sign-ups will start in early August. More information on this will be forthcoming.
If you plan on playing please contact Paul Linderoth to sign up. Contact info is This email address is being protected from spambots. You need JavaScript enabled to view it. OR 602-971-0112. Remember, Wednesday morning open bocce will continue throughout the summer at 9 a.m. Come on down and Play.
Let's play Bocce!

Paul Linderoth
This email address is being protected from spambots. You need JavaScript enabled to view it.">This email address is being protected from spambots. You need JavaScript enabled to view it.
This email address is being protected from spambots. You need JavaScript enabled to view it.">Bocce President
Open Bocce @ AAIC
Our four (4) well lit Bocce courts are open to the public every Wednesday night starting at 7:00pm. Come out and join the fun!

Planning A Party?
The Arizona American Italian Club has several options for parties, luncheons, weddings and business meetings. Our main banquet hall is fantastic for weddings and receptions, our large dining room is suitable for large luncheons or receptions and our meeting rooms are the perfect size for business or civic club get togethers. Contact Rudy King at (602) 266-2423 or by e-mail at This email address is being protected from spambots. You need JavaScript enabled to view it.. For additional information click here.

Club Charities
Our charity for the month of May was Hospice of the Valley. Thank you for your generosity. We collected $202.00. Please keep up your contribution to all these charities, they are in great need. Our charity for the month of June was Maggie's Place. The figures are not in for this charity yet. July's charity is Phoenix Rescue Mission. Please keep up your generosity. Also remember St. Mary's Food Bank.
We will be having a bake sale once a month to raise money for the Fashion Show which will be held on April 11, 2015. We will need baked goods donated for each sale.
Rosalie Mora,
Charity Director
Bingo News
It's good to be an AAIC member & play bingo. Well, Andy has done the smart thing for our members who like to play bingo at the club. For a few months we have given our card carrying members a $5 discount at bingo if they played in a particular month. Of all the deals that bingo offers this is the one that our members crave. If you've got one of those world class membership cards in your wallet & you'd like to come and try bingo, now's the time. Show your card at the window & get that coveted $5 discount. Man, are we getting excited or what??? So for all of our new members, this is one additional bonus for being a member at the club and we'd love to see you with a dauber in your hands.

Bingo is offered Friday @ 6:30 PM & Sunday @ 1:00 PM. Hope to see you guys there... Oh yeah, one more thing, for all you smokers who love to play bingo, the back patio is opened for your puffing pleasure. Puff away and daub to your hearts content....
Ciao...joe "d" / Andy Trotti